A Sail to Steam and Back Again
The Set Sail Trust brings Guernsey's maritime history alive for school children.
The Set Sail Trust is behind a second book that is being distributed to some of Guernsey's primary school children this week. A Sail to Steam and Back Again takes readers on a journey through the island's maritime history from the 1900s to the present day.
Full of interesting facts, pictures and diagrams, quizzes and activities, the book can be used in class or enjoyed by children at home. The story starts with the age of steam and its impact on transportation and life in Guernsey. It explores the importance of steam ships for the island's growing industry before explaining the role of some of the Guernsey's ships as minesweepers in the First World War as well as the brave sailors who lost their lives.
After the war, steam ships brought holiday-makers to the 'sunshine island' and Guernsey's tourism industry boomed. The book brings readers right up to date, looking at sailing for pleasure, modern ferry transport and the boats that keep our waters safe for everyone.
Year 4 pupils will receive the A Sail to Steam and Back Again book, which has been written by Lynne Ashton, of Guernsey Museum, who says: 'I am delighted that the second book tracing the story of Guernsey's Maritime story will soon be in schools. I enjoyed the challenge of finding a way to present the information in a simple and entertaining way.
'Guernsey has a wonderful maritime story and this book is designed to help our children learn about the past through their own local story. I am extremely grateful to the Set Sail Trust for sponsoring this book, which is the ninth in our series of local history books for schools.'
Michael Strachen, one of the Set Sail Trustees, says: 'One of the objectives of the Trust is to support and raise awareness of Guernsey's nautical history and the development of maritime activities in schools. This is the third book we have produced and feedback from teachers and pupils has been excellent.'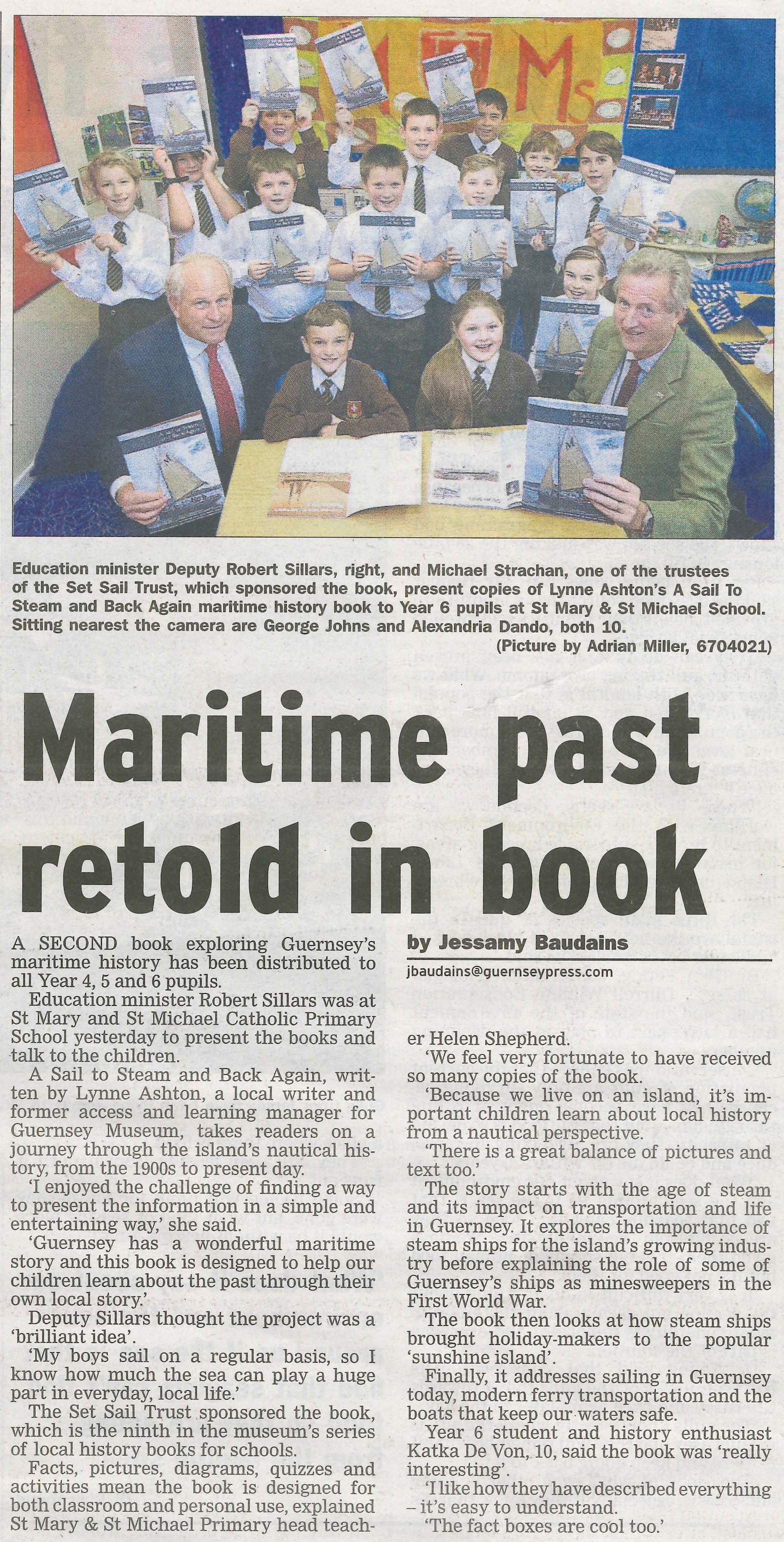 You can follow any responses to this entry through the RSS feed. Both comments and pings are currently closed.